What you need to know about sewing linen shirts.

With summer pretty much here (we skipped spring this year), I needed some new summer clothes. Of course, I should have thought about it before the temperatures hit mid-30, but my summer fabric stash was very dull and I wanted something fresh and exciting.
Linen is one of my summer favourites, and in addition to its benefits that everyone knows about, it is also impossible to find in RTW (well, not in my price range, anyway). So imagine my delight when I received an email from The Fabric Store advertising their linen sale at measly $10/m?

The linen they were selling was just what I needed – shirt weight, solid colours. I bought green and fuchsia pink.
The green one was easy, I already had a pattern for it ready and waiting  – here it is, I call it the Green top (very imaginative, I know).
This top practically sewn itself in a couple of hours, no fuss summer sewing in its best. It catches the slightest of breezes, floats and breathes – a dream to wear in Australian heat.
About the pink linen, however, I felt quite differently. Although it would have looked spectacular as a cute summer top, I don't think I'd look nearly as spectacular wearing it. Fuchsia is such a strong colour, very easily pushed into the girly, frilly territory, I felt like it needed a "dry", androgynous design to balance it. Shirt it was.
And, as it usually happens, I didn't have a shirt pattern on hand, because I never seem to have the patterns I want. Of course, I could have purchased one, but for me it would have been like baking a cake from a supermarket cake mix. I  LOVE drafting patterns, and I never deny myself this pleasure.
And so, this shirt was born – classic pretty much everything: button stand, collar, yoke and sleeve plackets, except for the yoke (I had to add some whimsy somewhere, fuchsia was invading my brain). I think it came out too awesome. It's like – "What? I'm just wearing this normal shirt, nothing to see here, but you can't stop staring BECAUSE IT'S SO AWESOMELY PINK!!!" (just look at that happy grin).
The sewing process was far more involved than the Green top, as you'd expect, shirt sewing is no joke and has to be taken seriously. And because I don't sew shirts that often, I decided to brush up on some skills first, using David Coffin's "Shirtmaking" book.
I've had this book for many years, but this was the first time I thoroughly looked through it. Some things were useful, others very useful, and some were no good for me at all. To explain, I've prepared a list.
Here it is, I'll call this list
What you need to know about sewing a linen (and not just linen) shirt and sewing linen in general
Okay number one – linen is alive.
Just like silk, linen has it's own mind and opinion. Respect the linen! You might mistaken its robust appearance for a good complacent character, but don't be fooled. Skewing the grain on linen is just as easy as on silk. Linen moves, linen frays, linen doesn't like mistakes. Because of all of this reduce the stitch length, especially at the corners. Stitch twice, even, it won't hurt. Enclose all seams – yes, true flat felled seams are the best. They take ages, but you'll be glad you spent that extra time.
The collar and cuffs need to be shaped.
It is quite obvious, but is never done on any shirts I've seen. This is one of the great advices from David's book I'll use. The only difference is that David cuts all parts the same size and then trims the excess. I think it is easier to cut the under collar, inner collar stand and inner cuffs shorter and stretch to match the outer cuffs/stand/collar. Either way you'll achieve a great shape and avoid that nasty wrinkling on the inside.
The parts that need to be interfaced are the parts you need to look sharp at all times.
And I know that old books tell you the completely opposite thing, nobody does it anymore. Interface the TOP collar, the OUTER collar stand, OUTER cuffs and the TOP placket (the one where the buttonholes will be). The interfacing will keep them looking wrinkle free and sharp. Also, if you are sewing linen, interface the shirt plackets too, but with the thinnest interfacing you can find. This will stop the fraying and save you a few grey hairs.
Speaking of shirt plackets, David's template is Da Bomb. Use it.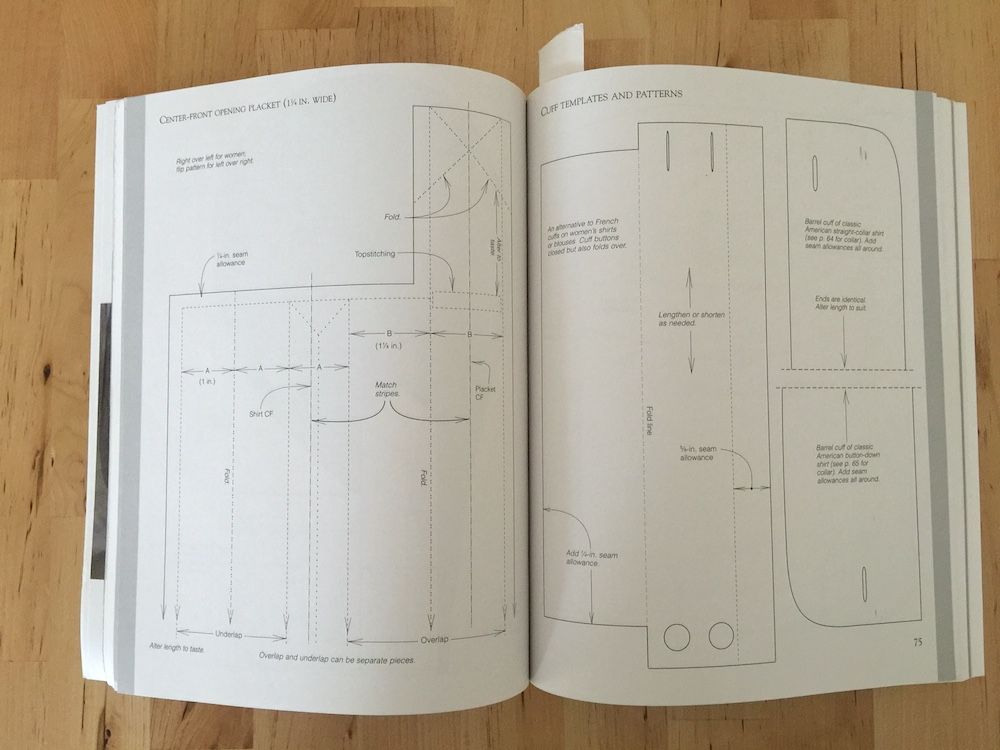 Sweat the small stuff.
Shirts are all about being picky and fastidious. The curved edges must be smoothly curved, which means the seam allowances inside must be trimmed to 2-3 mm, not clipped. For precision, pre-press your seam allowances and measure, measure everything.
And now about things I didn't like in David's book.
The collar points.
David mentions his friend the shirt maker who folds the corners inside like a tiny envelope and then pushes them out. Linen won't have a bar of any folding. A few layers of linen are solid as a rock. I'll try this on something thinner sometime, but linen shirt collar points need to be trimmed to be turned, there is no alternative.
The many step, laborious cuff sewing process.
Oh dear. I did one exactly like it was written in the book and I cursed it. It doesn't have to be this hard! The second cuff I sewed as I would normally do, it saved me a lot of time and the result was exactly the same.
And one of my favourite peeves I've left for the last. The one and only, the formidable –
Rolled hem with shirt tails.
"A rolled hem is also a basic to traditional shirt finish. It's easy to sew with the rolled hemmer foot and very tricky and discouraging to do by hand, as advised in all commercial patterns" – the book says.
I must disagree. Not once the shirt hem sewn with a rolled hem foot came out looking clean and professional enough for me, and I tried everything. If you've managed to do it – please post a video. I need to see you pushing through the hem in one fluid, effortless move, without any pre-pressing, tearaway, tongue holding, etc. Otherwise, save yourself some time and nerves and do it in two steps, save the rolled hem foot for other occasions. You'll get an accurate, smooth hem instead of cursing everything and everyone and doubting your sewing skills.
"But how do they do it at the factory?"- you ask. The answer is  – a very expensive piece of equipment. Say hello to my little friend Dürkopp Adler 275-14032-01 E28:
And this is all from me today on the linen (and not just linen) shirt sewing. The Green top pattern is now available for crowdfunding, so if you like it, sponsor it and make it a reality, or just write a comment and say hi :)