Clone your jeans – marking and cutting

As promised, I am doing a follow-up on my favourite jeans cloning process.
The fabric selection
I had a suitable woven fabric with 30% stretch, which I preshrunk in preparation. The fabric also bled some strange brick-coloured dye, which was surprising considering the colour of it is greeny-blue. For my test run I cut length of the jeans+20 cm of fabric.
The yoke
Ok, now to the fun part. As you know, my long-suffering jeans had so much wear the pattern I took off them had to be approached with extreme caution. The jeans are well-worn and the denim now has variable density and distorted beyond belief. I am pretty sure those are the reasons why they are so comfortable. The back of the jeans had the bulk of the wear,  that is why I decided to cut the back and yoke as a single piece: this way if the darts are required at the back I will be able to do add them, then transfer the changes to my main pattern and re-draw the yoke. Adding darts to already cut yoke would be just ridiculous.
Here is the back+yoke ready to be marked:
Slightly imperial metric
Now, since it is a test garment, the seam allowances must be hefty in case you need to let some out. Mine are usually 1/2′. I know, it is kind of strange that I use imperial system for my SAs and metric for everything else. You see, this system had evolved because my machine's throat plate is marked in inches. By adapting to it I could achieve much better sewing precision. So for this trial I  increased the SAs to 3/4′ or just under 2cm.
The safe side
Another thing that bothered me slightly was how low my jean pattern was. To be on a safe side I added 4 cm up at the top, because it is very easy to cut it off if needs be.

Obviously, I still want to know where the original waist line is, so I tailor tacked it.
Then I cut the fabric and tacks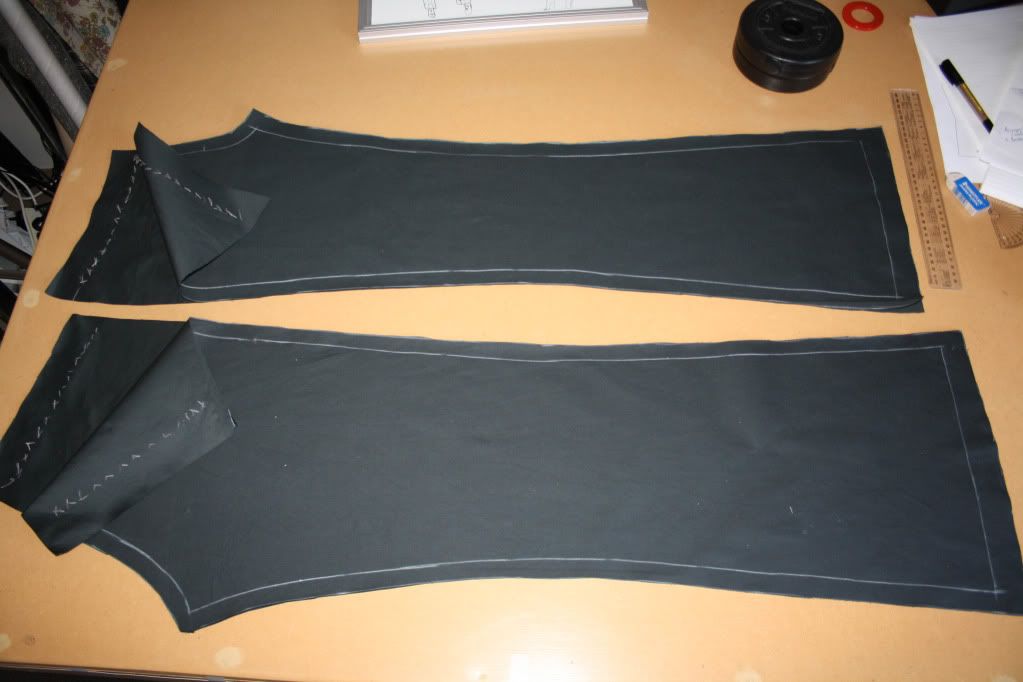 The close up

I will post more pictures later. But I must say I have already basted and tried them. The fit is great and I am so happy I had  those extra 4 cm!
Stay tuned.