Part Two – Turn bust dart into two pleats

Ok here is the final part of the Lily's blouse draft. Here are the link to Part One.
Now I am going to turn my bodice bust dart into two knife pleats. Mark future position of your pleats on the neckline. I have marked the first pleat 2 cm from CF and second one 1.5cm from the first one. Draw lines from these point to the bust dart point.
Now cut along one of the bust dart legs and along pleat lines to the bust dart point ( but not through the point). Close the bust dart, spread the pleats and make sure they are of even width.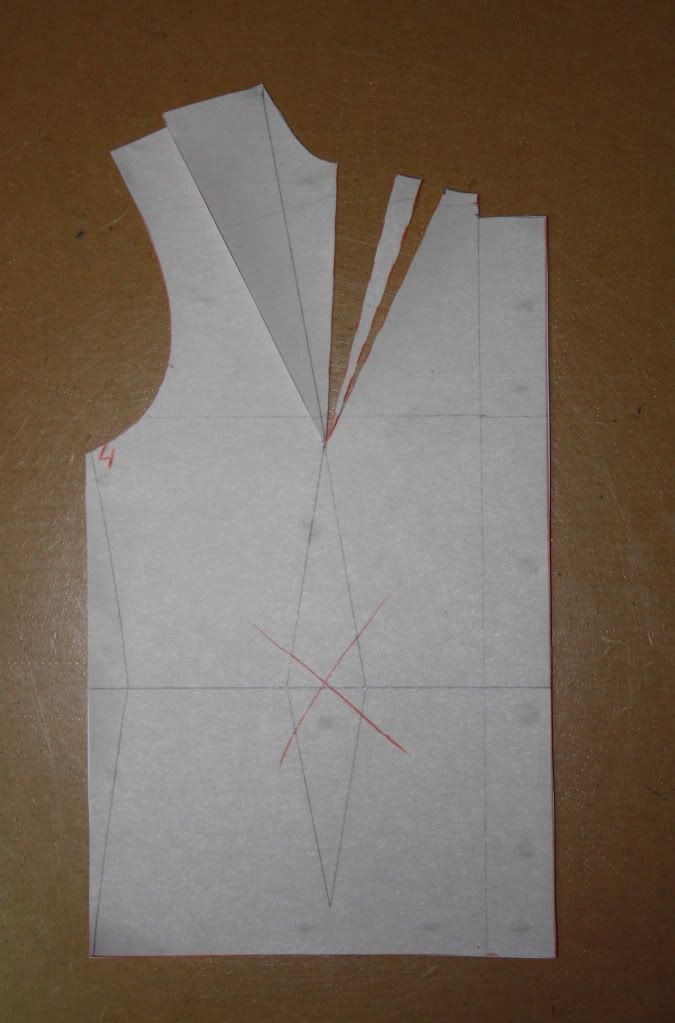 I have glued my block to the sheet of paper on this picture to make sure my pleats do not move. Now trace the neckline ( Remember, I have widened it by 2 cm and lowere it by 1 cm? ). Make sure that your darts' ( pleats' ) legs are of even length.
Now cut out the front bodice part
Mark the direction of pleats – towards the CF – and notch them
Now all this pattern needs is neck and hip band and some seam allowances and it is ready to go.  I'd go with neck band 2 cm wide and hip band 4 cm wide. I would also replace Lily's ghastly exposed zipper with a much more subtle button.
That is it! :)